This is the right time to bring digital learning solutions to Turkey. Millions of children can now start learning English with the Moomins.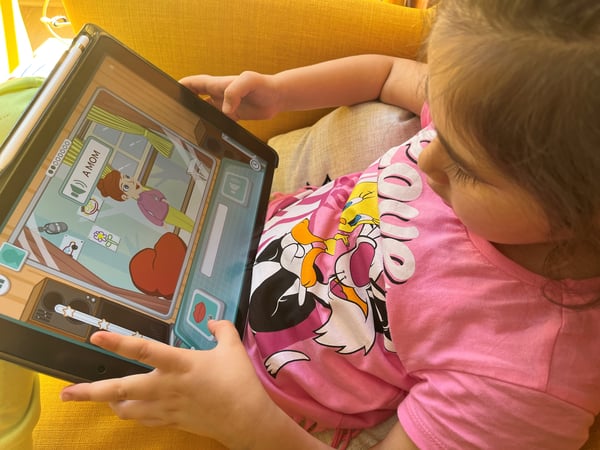 Digital learning solutions to Turkey
Playvation has partnered with LEGOnimbus, a Turkish group of education specialists and professionals with connections to the Ministry of Education and a wide network of consultants, educational providers, and 10 000 schools across the country.
LEGOnimbus and Playvation share a common goal: to advocate research-led education and digital solutions. With this collaboration, they set out to revolutionize learning in Turkey by introducing cutting-edge learning technology with Playvation's flagship product Moomin Language School.
"It is just the right time for digital solutions for education", says Kayhan Karli, the founder of LEGOnimbus.
The esteemed YÖM Schools in Istanbul and Izmir have already adopted Moomin Language School with great results.
"With Moomin Language School, our kids learn through play and that is what makes learning fun and easy. Our kids love the Playful Lessons, where they have the chance to repeat the target vocabulary and phrases while playing fun games. We got positive feedback from our parents also," says Ms. Pınar Haşhaş, an English teacher at YÖM Schools.
"The students are excited to share their experiences in the class. Also, the games in the lesson plans are easy to prepare and enjoyable to apply," says Derya Bingör, another English teacher at YÖM Schools.
Moomin Language School is a complete digital language learning service with a story-based application for children's individual daily practice and full playful lesson plans that can turn any teacher into a language teacher.
Anu Guttorm, Playvation's CEO summarizes: "We're excited to work together with LEGOnimbus team as we share the same vision of the future of education."
Contact details
For Playvation - Anu Guttorm, CEO (anu.guttorm@playvation.com, +358 40 7463 810)
For LEGONimbus – Gamze Önem, Academic coordinator (gamze@legonimbus.com, +90 216 709 7513)
About Playvation
Playvation Ltd is a Finnish EdTech company designing high-quality language learning solutions for early education institutions. Their flagship product is Moomin Language School, a playful, research-based, digital language learning service. It has already captured the hearts and minds of tens of thousands of children, parents and teachers around the globe.
About LEGOnimbus
LEGOnimbus is a group of education specialists and professionals who advocate research led education, merging research and business into our learning environment with our local, national and global partners. They mainly work with schools - within a network of about 10 000 - consultants, educational providers all over the country and with the Ministry of Education in some projects led by our group members.
Moomin Language School is a play-based early language learning program for learning organizations. Would you like to try it out for yourself? Apply for a free trial month here: