Digital tools can have enormous benefits for learning as long as enough time is left for sleep, free play, social time and exercise.
As developers of a digital early language learning service we often get asked about screen time. Parents are worried about their children's concentration, learning results and eyesight, while some educators fear that the downsides of digital tools far outweigh the benefits. These worries intensify the younger the children in question are.
We definitely understand the worry. Although digitalization in education – let alone early education – has been around for some time, it is still quite new in practice, and the way it manifests varies across the board. Digital gamification blurs the line between education and entertainment which makes it easy to mistake the use of an educational application for 'just playing games'. At the same time, excessive screen time is being linked to poor sleep, mental health problems and obesity. No wonder people are concerned.
However, there are also many benefits to using digital tools in learning such as instant feedback, increased motivation, individualized learning paths, multisensory learning experiences and detailed statistics on learning. So how can we make use of the positives of digital tools in early learning while avoiding the negatives?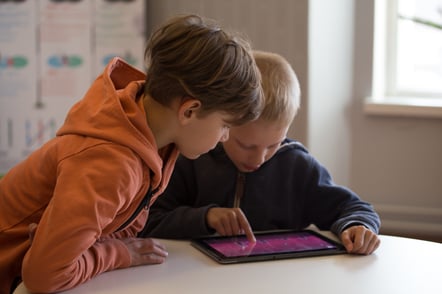 WHO: Max 1 hour of screen time per day
In April 2019, the World Health Organization published guidelines on physical activity, sedentary behavior and sleep for children under 5 years of age. In the guidelines, WHO recommends no screen time for children under 2 years, and a maximum of 1 hour of screen time each day for children aged 2-4. The guideline is similar to the recommendations of other organizations such as the American Academy of Pediatrics and the Canadian Paediatric Society, both of which recommend a maximum of one hour of screen time for children under five.
Digital tools that are specifically designed for early learning can well fit into the recommended 1 hour. In Moomin Language School, for example, children use the learning application only for 5-15 minutes a day, and with 3-4-year-olds we recommend keeping the playtime closer to 5 than 15 minutes. This still leaves 45-55 minutes for other kinds of screen activities, whether educational or entertainment-oriented. This may sound like too little in terms of learning, but with the attention span of a three-to-four-year-old and the fact that this short learning time happens daily, it is in fact just the right amount. This way we can maximize the benefits of digital tools while minimizing any potential downsides and leaving plenty of time for offline play and exploration.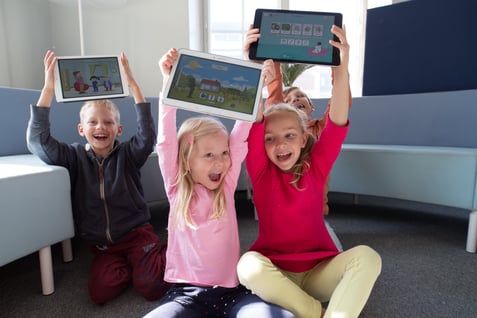 Seeing the wood for the trees
According to Dr. Max Davie, officer for health improvement at the Royal College of Paediatrics and Child Health, it's important to look at the bigger picture when it comes to assessing screen time. The RCPCH's own guides state that research hasn't found any clear evidence for a direct link between screen time and its suggested negative effects, and the effect of screen time on health is small when assessed together with other factors such as sleep, exercise and diet. It may be in fact that screen time is harmful only when it replaces positive activities such as exercise, socializing with friends and family, and adequate sleep.
When screen time is just one part of balanced daily routines, it can bring multiple benefits to early learning. It is important to teach children to use digital tools in a healthy and educational way because we live in an increasingly digital world where avoiding digital devices is near impossible. That is why we believe that instead of banning digital tools, we should introduce them to children in small doses while they are learning a bunch of other skills. Using digital tools for just 5-15 minutes a day doesn't disrupt children's free play time, socializing and exploration, yet it is enough to help them make use of the benefits of digital tools and learn to use digital tools properly and responsibly. And the learning application is just one part of Moomin Language School; the other part is playful lessons where children do not use tablets but instead sing, move around, explore and create with their teacher and friends. This way we can bring our children the best of both worlds.
When there is enough time left for sleep, free play, social time and exercise, digital tools can work as a wonderful way to enhance learning for the young ones. With good planning and a solid pedagogical design, digital tools are an opportunity for more engaging and efficient learning.
Would you like to read more about screen time? You can check out our other posts on the topic, for example here and here.