Today, Playvation company and Moomin Language School turns five years old! To celebrate this, we had a small office party last week, which culminated in us attending the invitation-only premiere of the new film about Tove Jansson. But before we tell you more about how we commemorated the event in the middle of a busy work week, let's take a look at where Moomin Language School began.

It's year 2015. After working several years in the field of digital language learning for adults, our soon-to-be CEO Anu decides that it's about time to bring the modern way of learning languages to children as well. They are, after all, our future. During the first year she created the foundation for what would become Moomin Language School, with the aid of experts from various fields. Next one from our current core team to join the company was our Head of Pedagogy, Saga, and one by one the rest of us found our way to Moomin Language School! Our office has moved a few times over the years but finally we found our home on Maria01's ever-growing startup campus in the fall of 2019. Here we continue to develop and produce Moomin Language School's application and learning content to enable early language learning for children all over the world.
Now, five years after the beginning, we thought it important to celebrate the journey we have taken with a small party. We started our celebratory evening with relaxation: to get our minds off the hectic work-filled day, Saga guided us through a Full Body Scan Meditation. The stress simply melted away! There might have been one or two cases of dozing-off as well. Particularly worth mentioning is where our meditation session took place: in Maria01's brand-new yoga studio just across the courtyard from our office in Maria01. The studio's interior emanated peace and calm – what a perfect place for meditation. After the much-needed relaxation we headed back to our office where a birthday cake and some bottles of bubbly were waiting for us. Toasts were made, five years' worth of candles were blown, and some delicious chocolate cake was had! Even a game of ping-pong occurred.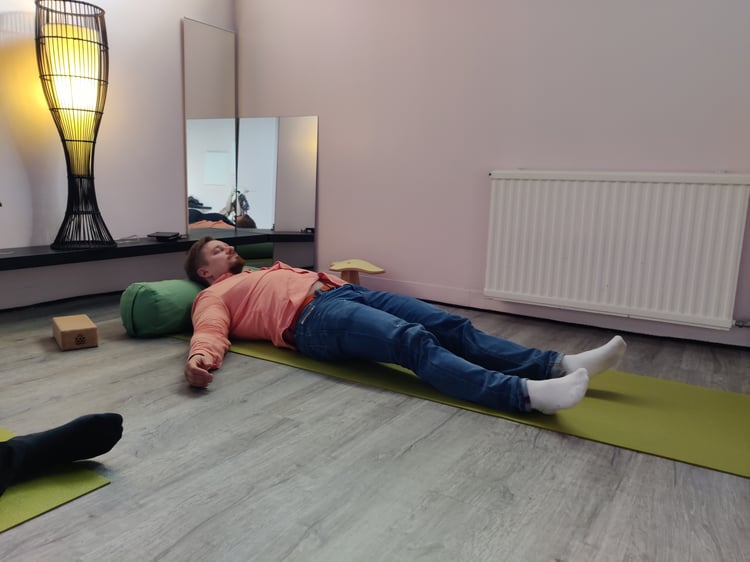 Our CTO, Petteri, in full relaxation mode.
The casual hangout at the office was a preamble to the evening's main event: a premiere of the film Tove, a biographic motion picture about the beloved Moomin characters' creator, author and illustrator Tove Jansson. It was A small red-carpet event held by the Moomin Characters Oy, who kindly gifted us with the tickets. We entered Tennispalatsi and the theatre with masks on, of course. The film had already had some astonishing reviews, and not in vain; we all found the film to be delightful, delicate and warm. Alma Pöysti portrayed Tove with such detail and resemblance, it was astonishing! What a perfect ending for our evening.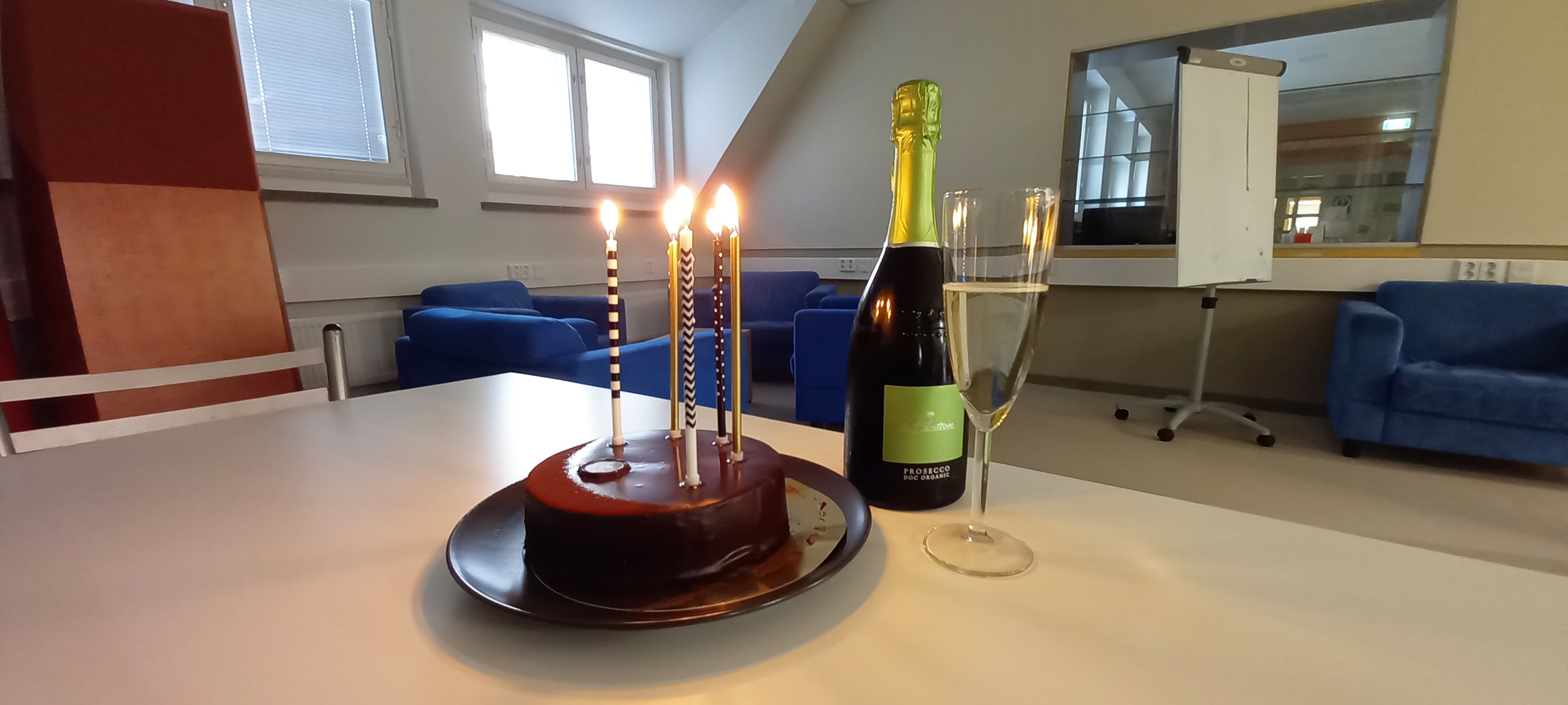 Delicious chocolate cake and some bubbly to celebrate!