Clover Montessori is the first kindergarten chain to use Moomin Language School in Vietnam. Our local team had an interview with Ms. Nguyen Huynh Thu Truc, CEO of Clover Montessori Kindergarten Chain. Here are her thoughts about our service!
Why did you choose Moomin Language School?
In the 21st century it is vital to help children develop the skills and competencies necessary for a citizen of the world. English proficiency especially is a must. Hence, we deliberately familiarize our young students with the English language in different ways to lay a solid foundation for their English language learning in the future.
We chose Moomin Language School primarily because we believe in its quality. It is developed by Finnish educators, and Finnish education is recognized to be among the leading education systems in the word.
Secondly, the Moomin Language School development team includes language experts, early childhood education experts, and ICT experts who base their work on proven scientific methods such as immersion and spaced learning.
And finally, it was important to us that learning with the Moomin Language School application can be limited to 5-15 minutes per day because it's ideal for children's concentration and healthier for them in general.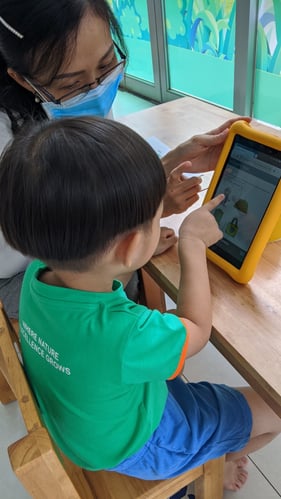 How have you benefited from using Moomin Language School?
Moomin Language School makes learning more fun and interesting to students. In addition to interacting with the teacher using flashcards, sing-a-longs, and different games during the playful lessons, children learn English naturally through an application which presents relevant topics with child-friendly illustrations. Children can also practice their listening, speaking, reading and writing skills through various activities in the application.
Have you faced any challenges?
At first we were hesitant about using a technological solution. Our kindergartens follow the Montessori approach where children are guided to live in a natural and ICT-limited world as we do not want children to become dependent on technology. However, we investigated Moomin Language School thoroughly before making a decision and eventually decided that the carefully considered schedule and limited learning time with the application made the service very suitable and healthy for our dear students.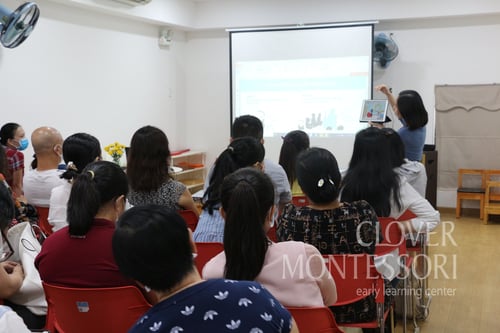 With kindergartens closed due to the Covid-19 pandemic,

do you continue to use

Moomin Language School?
Even though our students do not come to the kindergartens, we still use Moomin Language School. We don't want their English language learning to be interrupted; age 3-6 is the golden period for language learning and we don't want to miss that with any of our students. We provided parents with their child's login name and password so that they can continue learning with the Moomin Language School application every day at home.
How

have

the teachers, students and parents

welcomed

this new way of

learning

?
In the beginning, our teachers were very curious about Moomin Language School. Their curiosity turned into excitement after they got to know the service and learned how to use the application and the web tool that provides them with ready-made materials that help them and allow them to be creative.
Our children are very excited about learning with the Moomin Language School application. They love it when they get positive encouragement and win stars at the end of each day!
Parents have been interested in Moomin Language School and let children repeat lessons in the application at home. Many have reported that their children now know more words in English thanks to Moomin Language School.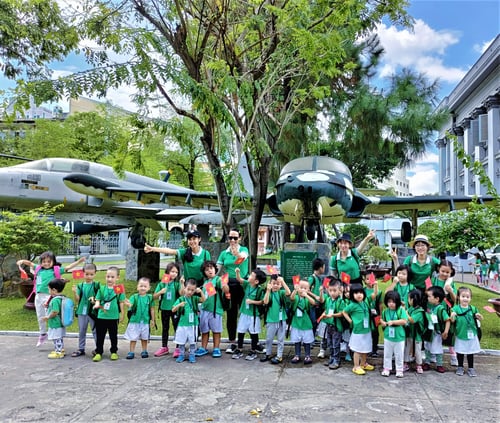 Clover Montessori is a kindergarten chain that follows the Montessori approach by Italian Dr. Maria Montessori. Every day teachers strive to make the children happier by letting them freely choose a useful task that their "inner selves" urge them to do. Their mission is to equip children for their future with skills to live a happy lifestyle, work to benefit their community, practice independent thinking, and overcome all challenges and obstacles they face with a warm heart.
Children at Clover Montessori are nurtured according to six values: respect, love, tolerance, honesty, collaboration and happiness.
Visit the kindergarten at
Branch 1: No. 169-171 Road 5, An Phu Ward, District 2, Ho Chi Minh city
Branch 2: Block A01-08, Phu My Hung Urban Area, Nguyen Van Linh Street, Tan Phu Ward, District 7, Ho Chi Minh city
Website: clover.edu.vn
-----
Would you like to try out Moomin Language School for yourself? Apply for a free trial month here: