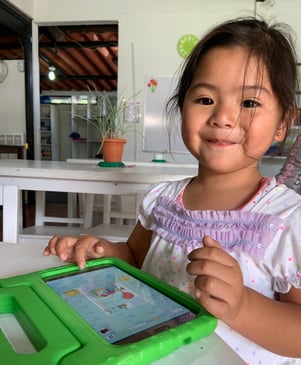 In March 2019, Moomin Language School began a collaboration with the Paula Weiskopf Foundation, a non-profit organization registered in Guatemala since 2002, to bring English education to children in Guatemala. The foundation's co-founder and the director of its scholarship program Rebecca Kronick says they were 'blown away' by the simplicity of Moomin Language School as she discusses the collaboration.
With tourism as Guatemala's second largest economic drive, and companies looking to hire bilingual individuals, having our population speaking English is vital. We therefore decided that it would be great to implement an English language course in our preschool, where children's brains are like sponges and language learning abilities are quickly soaked up. However, our budget did not allow for us to hire an English teacher, and so we searched online for alternatives. It was then, that we found Moomin Language School. We were blown away with their program, the simplicity of it and the ability to implement it in our school without an English teacher specialist. As a non-profit, we were also very fortunate that we were gifted this program at no additional cost.
We started to implement Moomin Language School at the Paula Weiskopf Daycare Center in March 2019. As a pilot class, we have selected 20 pupils who are starting with the program, while we ourselves also learn how to best implement it. We love that the program is very simple and straightforward. We are currently working with our 3 to 5-year-olds, who have been very excited with each class.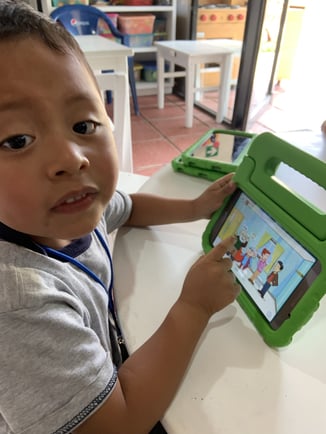 Our older pupils are learning quickly, especially the girls; the youngest are having a bit of a harder time. For now, we are only doing 5 minutes with the 3-year-olds, and 10 minutes with the 4 and 5-year-olds. The hardest part is getting them to speak. They are very shy and prefer to do the lessons or the puzzles, or the writing sections. Yet, we believe that in a couple of weeks when they are more acclimated to the program and to speaking English, they will be less shy*. Due to our lack of a fulltime English teacher, we decided to begin with only 20 pupils, but the rest of them are eager to start, especially our older kids who are in our afterschool program. We are very grateful for this opportunity, and excited to see more results with time.
*Note from Moomin Language School: Many children go through a silent period at the beginning of their foreign language learning where they won't say anything in the foreign language but prefer to listen. This is completely normal and nothing to be worried about.
The Paula Weiskopf Foundation provides crucial support that allows children and youth to remain in school and, through activities, develop their integral potential. Our mission is to empower children and young people to be positive protagonists of their lives, promoting educational opportunities with comprehensive training to obtain better results in their personal and academic development.
One of our programs is the Paula Weiskopf Daycare Center, which runs from 7am to 6pm, providing a safe space for working parents to leave their children while at work. We cater to the employees of our partner company Caoba Doors and to members of the community of Jocotenango, Sacatepequez. Within our daycare we have a preschool, where we use the Montessori method as a way of teaching. We currently have 36 children in our preschool and a total of 40 children in our afterschool program.